In Toro Toro, you're immediately transported from McPherson Square to South Beach, Miami. If Zengo was sexy and exotic, Toro Toro is glamorous and adventurous. Upstairs is Latin-American fare and downstairs is an opulent lounge where Latin performers take the stage with late-night salsa dancing. The decor is swanky and the atmosphere is cozy and intimate. It's Zaytinya meets Fogo De Chao and the drinks are boozy and delightful.
As a steak aficionado, I had previously enjoyed the AYCE "Rodizio Experience" where the servers brought out Brazilian skewers and small plates ad infinitum for $79. But today, we would focus on small plates: sweet corn empanadas, plantain chips with smoked guacamole, swordfish dip, tuna tartares, fish tacos, grilled pineapple and a lot of caipirinhas and mojitos. It also helped that happy hour was from 5-8pm.
I found Yoomie Huynh and Kanita Williams at the food table digging into the corn empanadas and talking shop.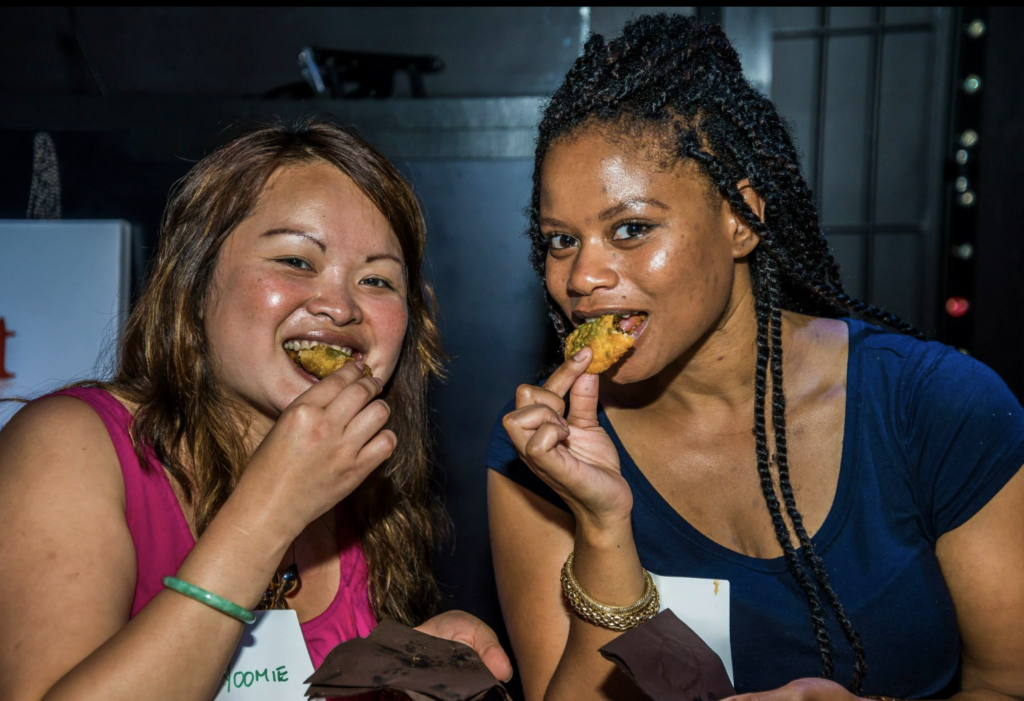 "I grew up in Staten Island with a large Latino community, and yo amor empanadas," Kanita said. "Can actually taste the flavor and texture of the creamy corn filling."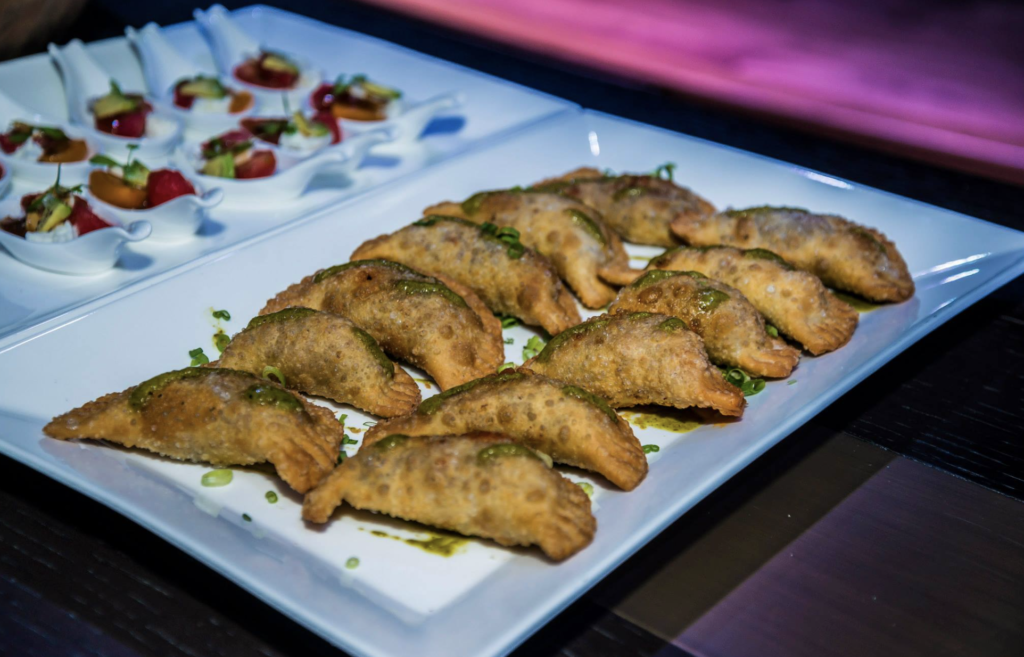 "This reminds me of the khinkali — meat filled dumplings — I had in the Republic of Georgia when I served in the Peace Corps in 2011," Yoomie said.
"And Chito take it easy on the caipirinhas," Kanita advised.
"They're definitely easy to drink, but hard to pronounce," I replied.
"I guess you're be visiting the bathroom often tonight."
"As long as I can pet the cow hide on the door, I'll be fine."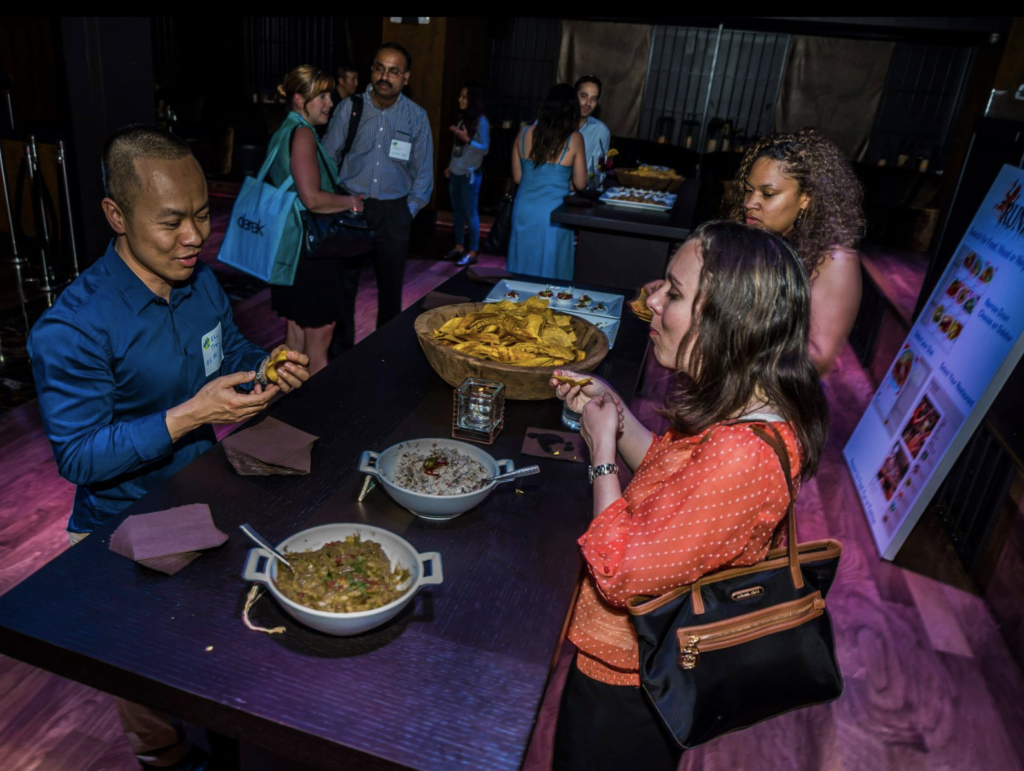 The usual suspects, Wayne Manigo and Orlando Darden were large and in charge. A few bloggers were also in attendance such as Jessica de Jesús from the Dining Traveler, Greg O'Neil from Greg's List, and Laura Hayes from Best Thing on the Menu. Jessica is a Marine Corps Reservist who was of the first women to complete male/female integrated Marine Combat Training in 1997. She eventually got her commission and is now a Marine Corps field grade officer. Khoi, from Albuquerque, NM is an Air Force officer stationed in the Pentagon. Altogether they were enjoying the swordfish dip, sangria and killer conversation. In his free time, Khoi did a lot of traveling to major food hubs all over the country to satisfy his epicurean tastebuds.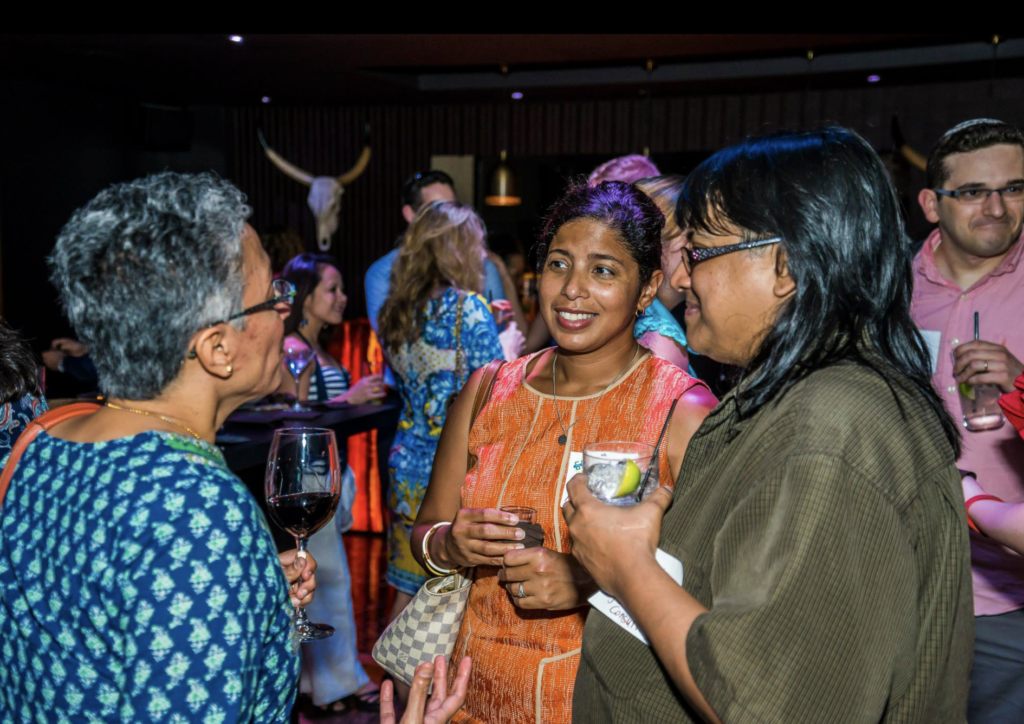 "I had considered going to culinary school after college," he said "Cooking is indeed an honorable calling."
"It is indeed, but not just fine dining, but also to feed the hungry like Jose Andres with World Central Kitchen," said Laura.
"I happened to have attended culinary school, courtesy of the US Department of Veterans Affairs," Wayne added. "And one of my favorite gigs was cooking for DC Central Kitchen. We got up really early to work in the kitchen, but it was for a good cause, so I couldn't complain."
"Yeah, I know all about working early in the morning and been sleep deprived" said Sarah Berghoff, an ER physician in Southern Maryland. "But that's commendable — taking a stand against homelessness."
"And we're glad you're here. How's work?" I asked. "Not too stressful I hope."
"Busy as usual. But I always try to make time to go for a run and yes to attend RUNINOut events."
"You're the best sweet Sarah, and my hats off to all the doctors and nurses in the frontline who are saving lives everyday."
When guests were leaving, I made sure to thank everyone for coming.
"C'mon Sarah, for old time's sake, let's get a pic together," I said.
"Ok, but only if you promise to send me a copy," she said.
"Of course, it'll be all over the internet by the time you get home."
"Hey Khoi, please take a picture of us in front of the entrance. Are you staying for salsa dancing?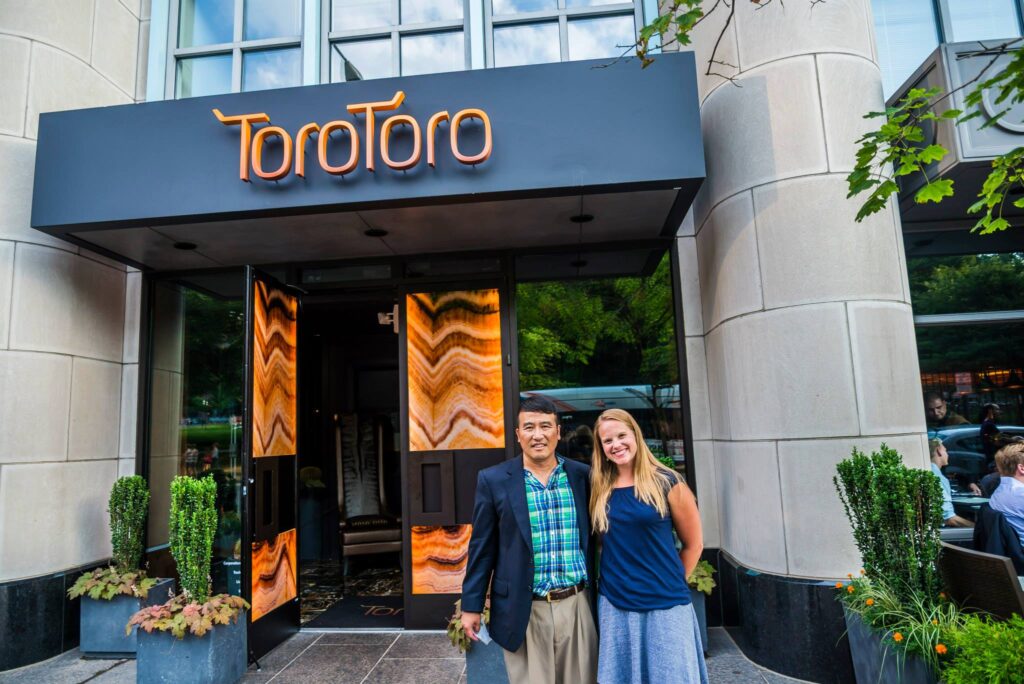 "Gotta get going for the next foodie adventure," he replied. "Lots of restaurants to visit, too little time."
"Well don't let salsa get in the way of progress. See you at our next event next month?
"This may be one of my last meetups for a while" he replied. "I'm getting ready to deploy to Kosovo for a peacekeeping mission."
"Well then good luck. Stay safe. And I heard Richard Sandoval will be opening a Toro Toro Gastrobar in Serbia pretty soon. Maybe you can dance salsa there."
"Yes, Chef Sandoval is slowly taking over the world, one restaurant at a time."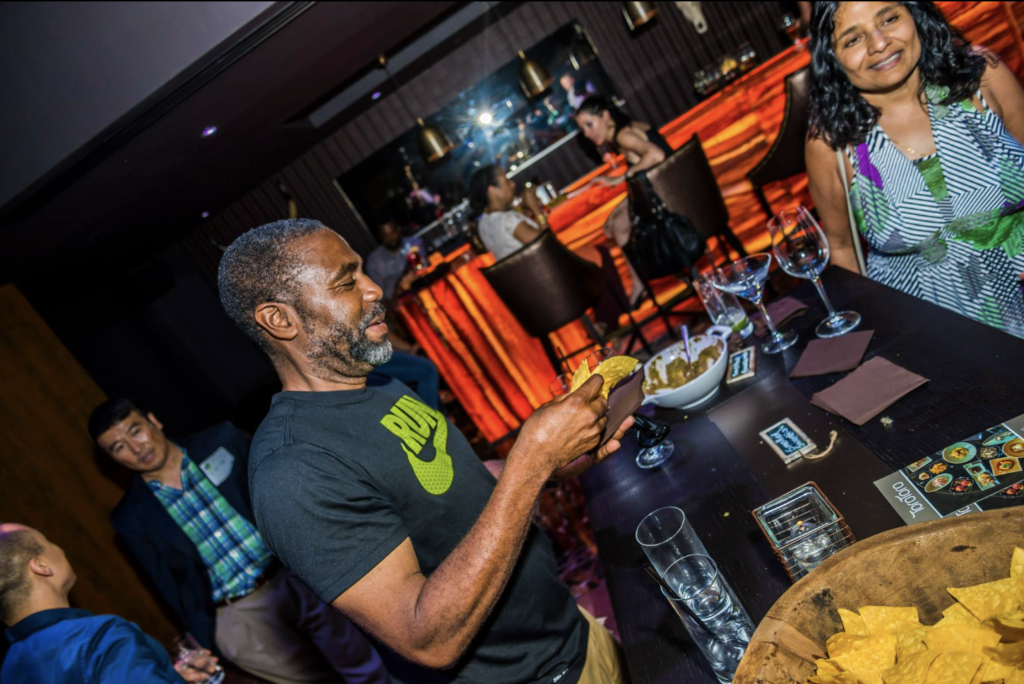 Had a great time last night at a new DC Brazilian restaurant, Toro Toro with my very good friend Chito Peppler who's company, Runin Out was the host of last evenings menu tasting event! One thing is for sure that if you attend his events, you"ll experience cool restaurants, serving delicious foods, and you"ll get to meet/ network with some of Dc's most interesting people, who are guest at his events!