On Wednesday, March 8, 2023, on Día Internacional de las Mujeres — International Women's Day, several hundred women gathered at the Monumento Mexico round circle in Zona Rio, Tijuana, Mexico, to demand an end to femicide and violence against women which is a common occurrence in Mexico.
A La Raza Monument, known as "Scissors" due to its peculiar shape, was covered in spray-painted messages and served as an altar to women who had been killed and received little justice. Some women also brought signs bearing the names and faces of men accused of rape and assault and attached them to street signs and other fixtures.
According to Mexico's National Registry of Disappeared or Missing Persons, more than 2,000 women are missing in Baja California which ranks second in femicides in Mexico in 2022.
As the protest surged forward, a multitude of stories unfolded within its powerful embrace. Among the brave souls who marched were several women rallying for justice, including Alina Narciso, whose case had garnered widespread attention. Sentenced to 45 years in prison for a homicide she claimed was an act of self-defense against her violent partner, Alina became a symbol of the fight against gender-based violence.
Another group represented in the march were courageous trans women seeking asylum from Mexico due to the violence they had endured. Yolanda Rocha, the director of Jardin de las Mariposas, a migrant shelter dedicated to serving the LGBTQ community, stood by their side, offering support and solidarity.
Chito, initially an observer from across the street at the mall, was drawn to the gathering by a sense of curiosity. The sight of hundreds of women filling the streets, united in their pursuit of justice, captivated him. Ignoring the restrictions placed upon men, he crossed over to join the protest, his camera poised to capture the essence of the movement.
However, his presence as a male was quickly noticed by the participants. A woman, polite yet firm, approached him and explained the restriction. "Men are not allowed here," she informed him. "You can watch us protest from across the street." Chito respected their wishes, moving to a vantage point where he could still witness the march.
As the clock struck 4 p.m., the procession began its rhythmic movement along Paseo de los Héroes. The air vibrated with the cadence of their chants, echoing the call for society to break free from indifference and take a stand against the alarming wave of violence. Drums reverberated, noise makers shook, and the collective voice of the women grew louder, reverberating through the city streets.
Turning their gaze towards the municipal building, the protesters embarked on a transformative journey. Along the way, some took the opportunity to leave their mark, tagging sidewalks and walls with powerful slogans. "Ni una más," the words echoed, a timeless rallying cry for an end to the violence that claimed far too many lives.
As they approached the Palacio Municipal, lines of Tijuana police stood as stoic sentinels. The women's voices intensified, shouting words of disillusionment with the system that was meant to protect them. "La policia no me cuida. Me cuidan mis amigas," they proclaimed. The police don't take care of me. My friends take care of me. It was a statement of solidarity and a reminder that true support often emerged from within their own community.
In the midst of this powerful display of unity and resistance, Chito's eyes were drawn to a woman whose presence radiated strength and determination. Intrigued by her unwavering passion for the movement, Chito approached her, striking up a conversation that bridged the gap between their worlds.
Chito: ¡Hola! ¿Cómo te llamas? Me llamo Chito. ¿Eres de aquí de Tijuana?
Ana: Mucho gusto, Chito. Soy Adriana. No, no soy de Tijuana. Soy de Guerrero, un estado muy violento. Lamentablemente, las mujeres allí son tratadas muy mal.
Chito: Lo siento mucho escuchar eso, Adriana. Es triste que tantas mujeres sufran violencia en diferentes partes del país. ¿Cuánto tiempo llevas aquí en Tijuana?
Ana: Solo llevo unos meses. Vine buscando un lugar más seguro, lejos de la violencia en mi estado natal. He estado trabajando en el Hotel Ventura, justo aquí en la calle. Acabo de terminar mi turno.
Chito: Entiendo. Es valiente de tu parte haber decidido buscar un entorno más seguro. Me alegra que hayas encontrado trabajo en el hotel. ¿Qué te parece trabajar allí?
Ana: Es un trabajo honesto y me permite mantenerme, pero a veces es agotador. Limpiar habitaciones todo el día puede ser bastante demandante. Sin embargo, estoy agradecida por tener esta oportunidad.
Chito: Me alegra que puedas mantenerte gracias a este trabajo. Adriana, me has llamado la atención desde el momento en que te vi en la protesta. Creo que compartimos ideales similares y me encantaría poder mantener el contacto contigo. ¿Te importaría si te pido tu información de contact?
Ana: Lo siento, Chito, pero normalmente no suelo compartir información personal con personas que acabo de conocer. Espero que lo entiendas.
Chito: Claro, entiendo tu precaución. Pero permíteme decirte que me gustaría conocerte mejor y tal vez trabajar juntos en proyectos relacionados con los derechos de las mujeres. No tengo malas intenciones, te lo prometo.
Ana: Lo aprecio, Chito. Pero déjame pensarlo un momento. La confianza es algo que no doy fácilmente. Permíteme considerarlo y te daré una respuesta más adelante, ¿está bien?
Chito: Por supuesto, Adriana. No hay problema. Aquí está mi número de WhatsApp. Tómate el tiempo que necesites. Respeto tu decisión y estaré aquí cuando estés lista. Si decides compartir tu información, estaré encantado de colaborar contigo en la lucha por los derechos de las mujeres.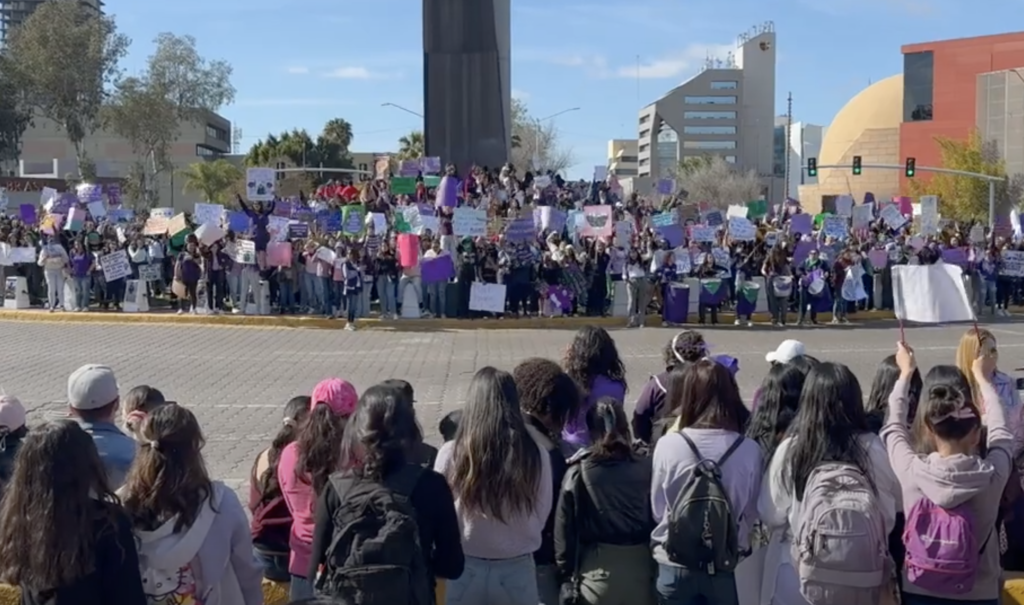 ]
Chito: Hello! What is your name? My name is Chito. Are you from here in Tijuana?

Ana: Nice to meet you, Chito. I'm Adriana. No, I'm not from Tijuana. I am from Guerrero, a very violent state. Unfortunately, the women there are treated very badly.

Chito: I'm very sorry to hear that, Adriana. It is sad that so many women suffer violence in different parts of the country. How long have you been here in Tijuana?

Ana: It's only been a few months. I came looking for a safer place, away from the violence in my home state. I've been working at the Ventura Hotel, right up the street here. I just finished my shift.

Chito: I understand. It is brave of you to have decided to seek a safer environment. I'm glad you found a job at the hotel. How about working there?

Ana: It's an honest job and it allows me to support myself, but sometimes it's exhausting. Cleaning rooms all day can be quite demanding. However, I am grateful for this opportunity.

Chito: I'm glad you can support yourself thanks to this job. Adriana, you've caught my attention from the moment I saw you at the protest. I think we share similar ideals and I would love to keep in touch with you. Would you mind if I ask for your contact information?

Ana: I'm sorry, Chito, but I don't usually share personal information with people I just met. I hope you understand.

Chito: Sure, I understand your caution. But let me tell you that I would like to get to know you better and maybe work together on projects related to women's rights. I have no bad intentions, I promise you.

Ana: I appreciate it, Chito. But let me think about it for a moment. Trust is something I don't give easily. Let me consider it and I'll give you an answer later, okay?

Chito: Of course, Adriana. No problem. Here is my WhatsApp number. Take all the time you need. I respect your decision and I'll be here when you're ready. If you decide to share your information, I will be happy to collaborate with you in the fight for women's rights.