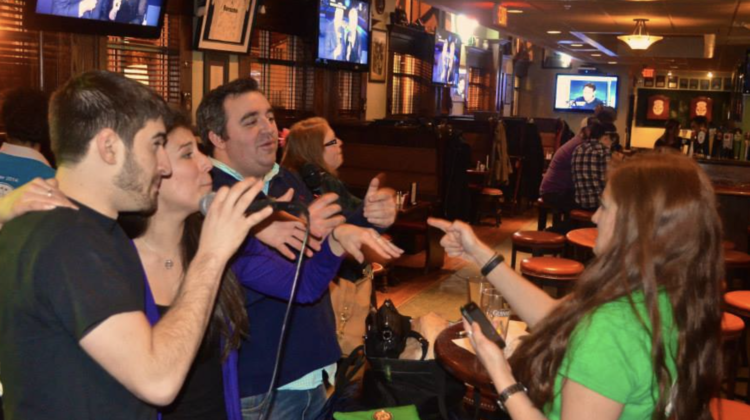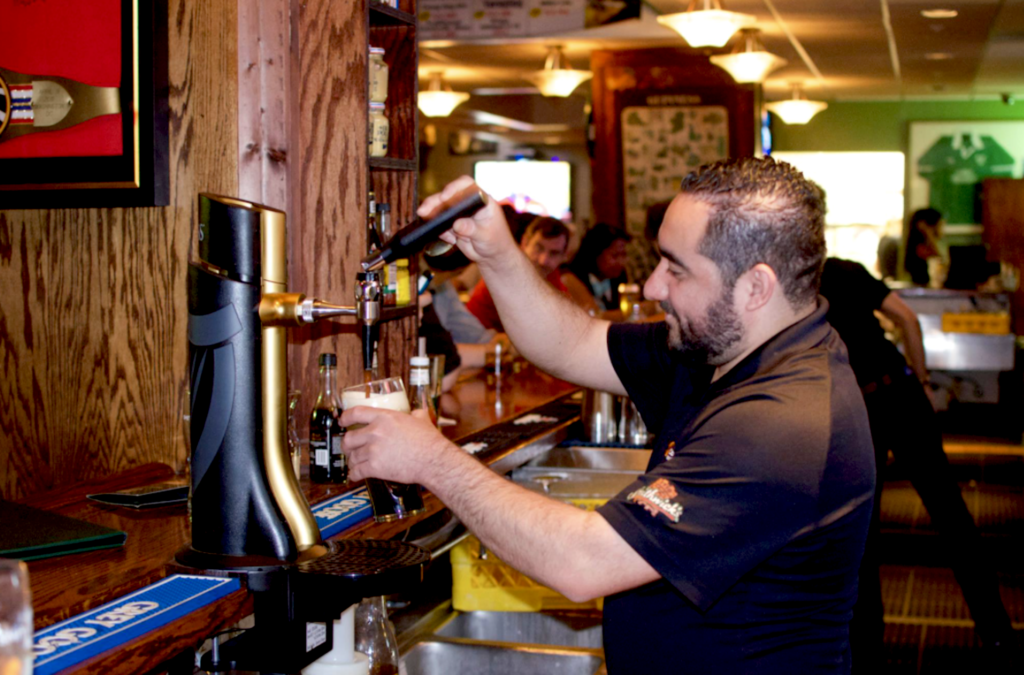 The Irish Channel is unpretentious and low key. "It's a place where everyone knows your name and a place where you can knock back a pint or two without overindulging."
The theme is dark oak and green with Tottenham kits and Caps jerseys displayed proudly on the wall. The pub features a long, mahogany wood bar and several plush booths and patrons enjoying live music while watching the Wizards play a home game, once again extending their losing streak.
Oscar, stout in stature, tilted a twenty-ounce tulip pint 45 degrees, let the 6°F draught beer flow down the glass's side until filled three-quarters of the way, then let that settle for a minute and a half before topping it off. It was the perfect pint with a creamy foam that's between half and three-quarters of an inch, with a malty sweetness with notes of coffee and chocolate.
We met the manager, Paschal McMahon, an amiable Irish chap who had a gift for gab.
"Howya mate. Fáilte to a slice of Ireland in Chinatown. There are plenty of pubs around here, but this one is by far the most festive."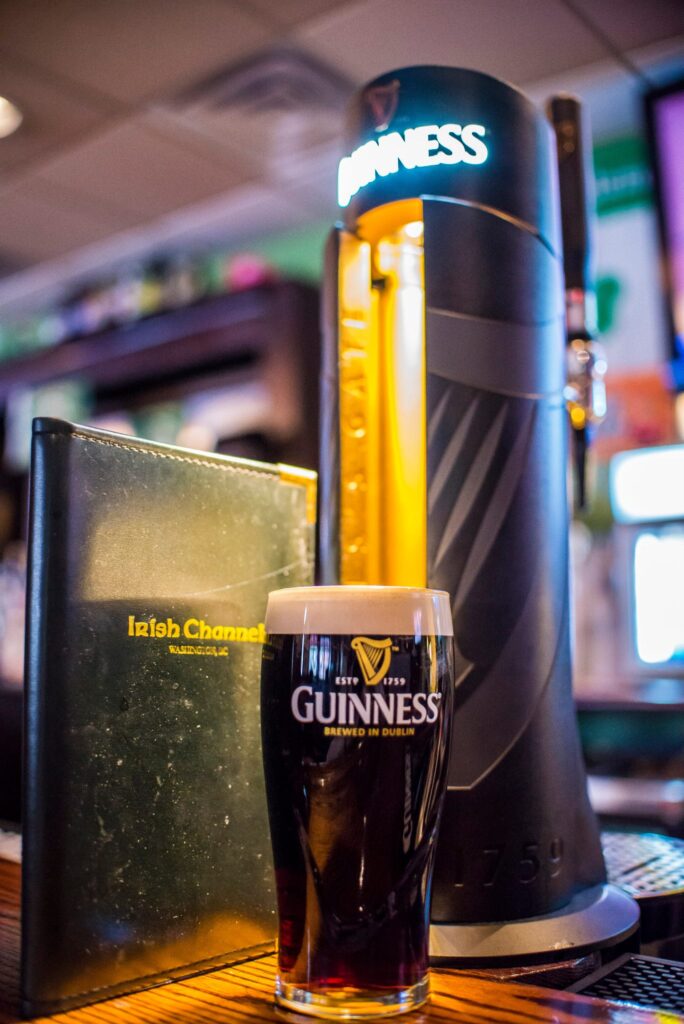 "By the look of the crowd, couldn't agree with you more, and we also love your pints," I exclaimed.
"Really appreciate that. That's what we're known for. It's a perfect roast from heaven."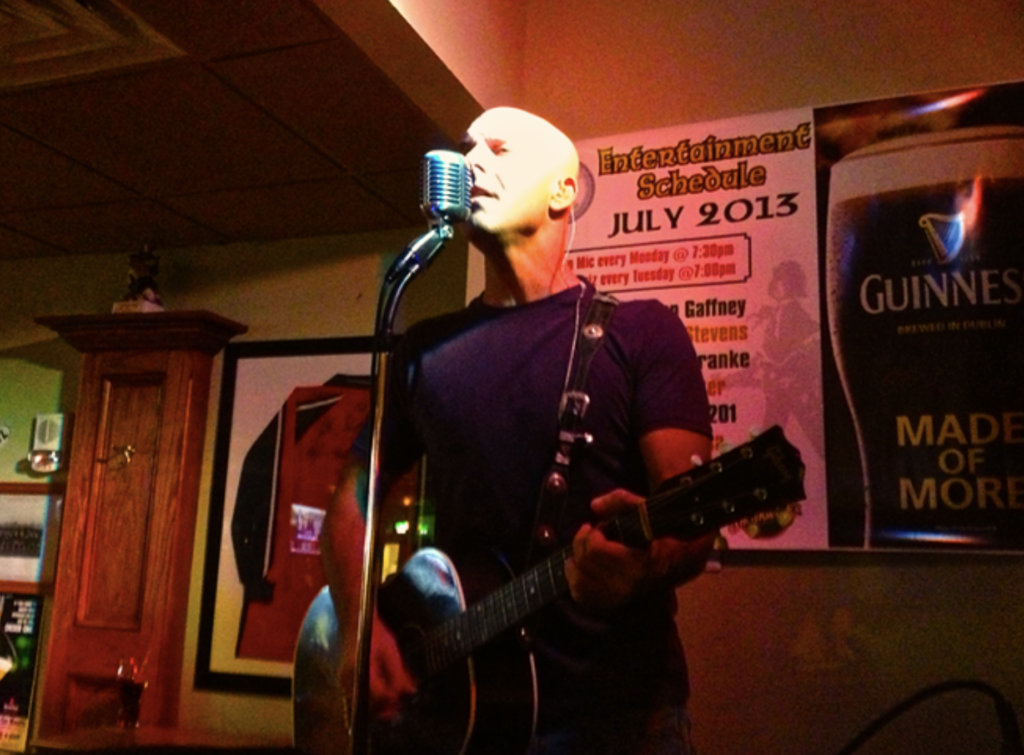 Pete Baker was strumming his 2013 Gibson J-45 and crooning "The Way" by Fastball.
Anyone could see the road that they walk on is paved in gold
It's always summer, they'll never get cold
They'll never get hungry, they'll never get old and gray
You can see their shadows wandering off somewhere
They won't make it home but they really don't care
They wanted the highway, they're happier there today, today
Pete was an affable musician who had the voice of Pat Boone and a guitar style that's both rich and intricate. And he was deft at taking requests, arousing tipsy revelers to participate, some even prancing in front of the stage as if Saint Patrick had arrived a month early.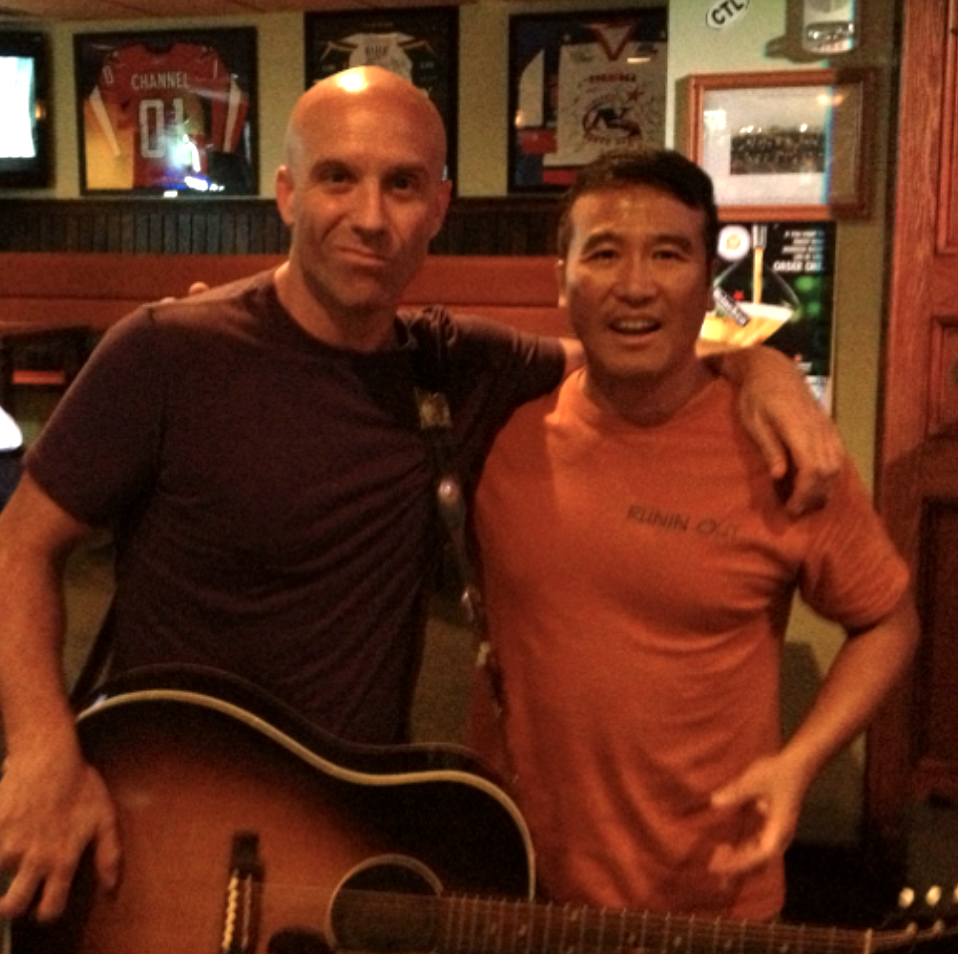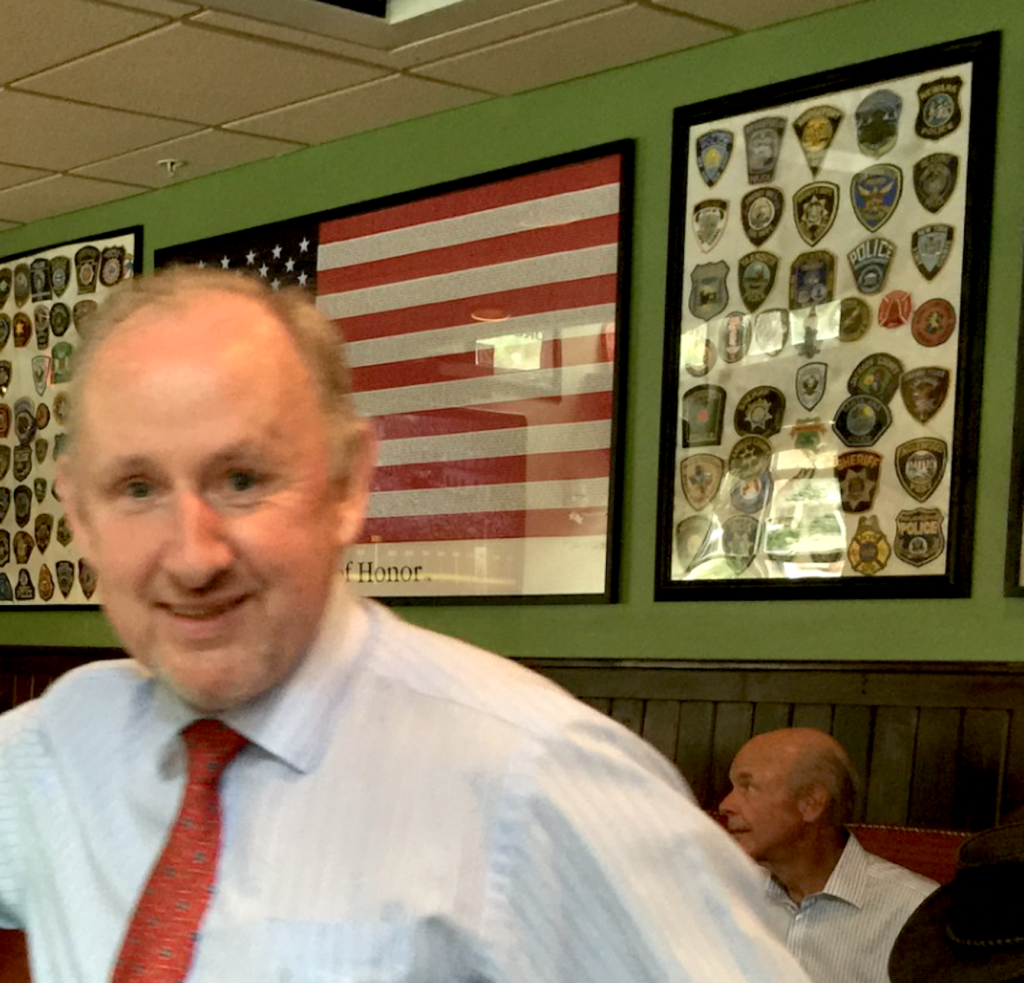 "So I have good friends in Northern Ireland near Belfast, great musicians they are," I mentioned to Paschal.
"True dat. A few of our beloved musicians like Ciaran Quinn hails from Belfast."
"What a lovely place. I visited Belfast a couple of winters ago, and also had a chance to tour Dublin."
"Is that a fact mate. I'm from Monaghan, a small town on the northern edge of Ireland, near the border of Northern Ireland.
"So how do we check the music calendar to see when Ciaran or Pete may be performing?"
"It's all posted online, but our site is as retro as our vintage bar stools. It's atrocious, clunky and hard to navigate."
I took a few minutes to show Paschal RUNINOut and how it would be great if we can feature the Irish nachos and fish and chips and recommend them to customers at Burma or Ming's.
"Looks rad. You're welcome to take pics of all the dishes you and your friends order. We don't serve rice here, but a lot of potatoes and cabbage, and you ought to try our Irish stew."
"Can't wait to start pumping up your dishes. And we also would love to design your website and polish up your music calendar."
"Music is not the only thing happening here."
"What you also host trivia nights, and I bet you're packed during the Capitals and Wizards games," Orlando added.
"So true, but that's not our prime events.  As you can see from the kits on the wall, we're home to the DC Tottenham Hotspurs. Our theme throughout is green, so we're also home to the Oregon Ducks and the NY Jets."
"Right on. So you don't just need a static website, you'll need help in marketing sports watch parties also." I concluded.
"That's a fact chap. But we currently have a few competitive bids for a whole redesign by professional shops. You're a fledging startup with little to show for. How would you be able to stand out above the rest?"
"Well, I've been to the Legend's Causeway. And I once sang a limerick about the mythical Finn McCool in Galway City."
"That plus 50 cents will buy you a cup of Irish coffee without the Jameson."
When Paschal left to tend to his other customers, we all ordered another round of dark ales.
"Supporting weekly events for the Channel would be another vertical that you should consider taking on," Jackie advised.
"And the more verticals with targeted niches you adopt, the more valuable you'll become to the management," Orlando informed.
"I have an idea. St Patrick's Day is next month. You should attend and show this pub what you'll made of — what you're willing to take on," Jackie suggested.
March 17 came on an unseasonably warm, pre-spring day, and hundreds piled into the Irish pub to hail the Patron Saint of Ireland. It was a busy time to be in DC. The St Patrick's Day parade the past Saturday was a family-fun event celebrating traditional Irish culture. Thousands of inebriated sports fans were glued to TVs cheering March Madness, while crowds flocked to DC admiring the delicate white petals emerging from buds across the Tidal Basin.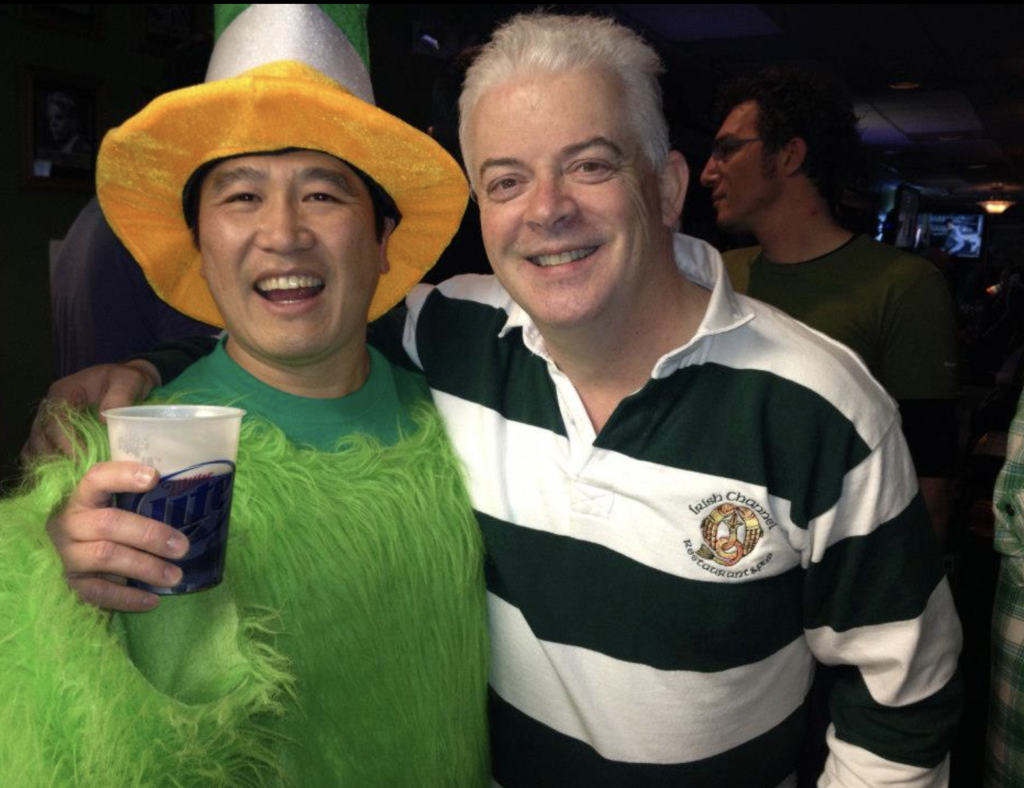 Tom Stack, from Cork Ireland, owner and chef who ran the corner pub for over 13 years was first to welcome me.
"Good day! You look just like Lucky the Leprechaun sans the ginger beard," he remarked. "Come nigh and lemme buy you a pint."
"Well, I'll be darned, the Asian slob has Irish blood after all," Paschal cheered. "Sláinte!"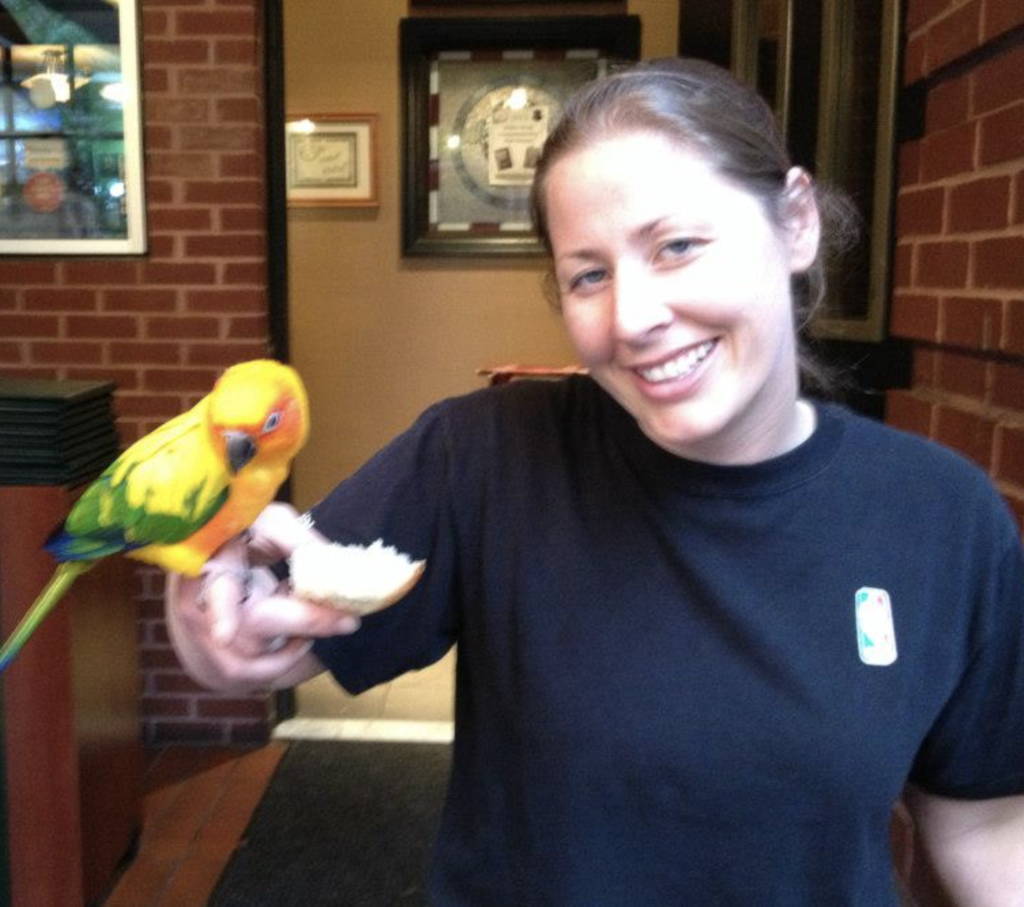 "I didn't come alone. I bought my feathered friend and drinking partner."
"Well, I'll be darned, the Asian slob has Irish blood after all," Paschal cheered. "Sláinte!"
"I didn't come alone. I bought my feathered friend and drinking partner."
Apollo, the invariable social butterfly flew to Lesley, the server and nibbled on her hair as she served drinks. He wore plenty of green to be considered Irish and easily became the talk of the pub.
"Such a beautiful lil angel you are. You've bought us luck and fair weather today."
We were glad to see Pete Baker wrapping up his first gig.
"Hey Chito, great to see you as the lucky Leprechaun. I've got something you might like to hear."
His last melody wasn't a song, but a prose.
For all of my bartender, server, bar back, and door man friends. This is dedicated to you:
T'was the night before Paddy's, and all through the Pub
All the locals were drinking, and eating their grub
The kegs had been stocked in the backroom with care
Knowing the revelers would all soon be there
The bar backs, and servers, and the rest of the crew
Wore back braces, knee wraps, and comfortable shoes
Management, hen pecked by the owners for months
Sleepless and weary, spoke in mumbles and grunts
When early next morning, there arose such a clatter
The masses arrived, a year older, and fatter
Plastic green hats, and Leprechaun ears
Fake Irish accents, demanding green beer
Daytime was drunk, and night time a bender
The crew, beaten and bruised, but did not surrender
For all of the mayhem packed into one day
Was only their training for what lay in wait
The money was made, the goals had been met
The place put back together without trouble, and yet
Though triumphant today, they were all filled with sadness
For the most loathsome of all, are the fans of March Madness
For the the rest of you, please tip well, and don't treat the Pub like your rented playground, or the employees like the hired help.
"What a classic. Where will you be performing next?" I asked.
"I take off the week after St Paddy's Day. Grown men wildly screaming at televisions in public for hours on end is no crowd to play to or to be around in my opinion."
The next day — probably the second best day of the year for an Irish pub, I was surprised to receive a text from Paschal, knowing that he stayed up to the wee hours of the morning, closing down.
"It was great to see you dressed in St Paddy's spirits. We've received your bid for the website design, and we your prices are attractive. We like your zeal and enthusiasm and hope that this will be imparted onto your work. Besides marketing our food and social media, we would like you to help manage our events."
I was delighted beyond measure as I showed the text to Orlando and Jackie.
"There you go. Taking on new verticals results in better economies of scale." Orlando stated. The pictures you take from the events can be used as content for both the website and social media. Pretty soon, they'll be putting you on the payroll."
"And the more people you engage with, the more users you get for RUNINOut," Jackie added. "It's a very efficient model."
* * *
In April, when things returned to normal, we setup a food tasting event where we invited friends to meetup and taste delicious Irish cuisine. As usual, Jason photographed the dishes for RUNINOut, and was happy to perform for some grub and a pint.
"The best bangers and mash, I've ever had," said Jim McBride, President of Network for Progress. "Thanks for hosting a great event. "I'm not a big sausage person, but the black pudding made my mouth water."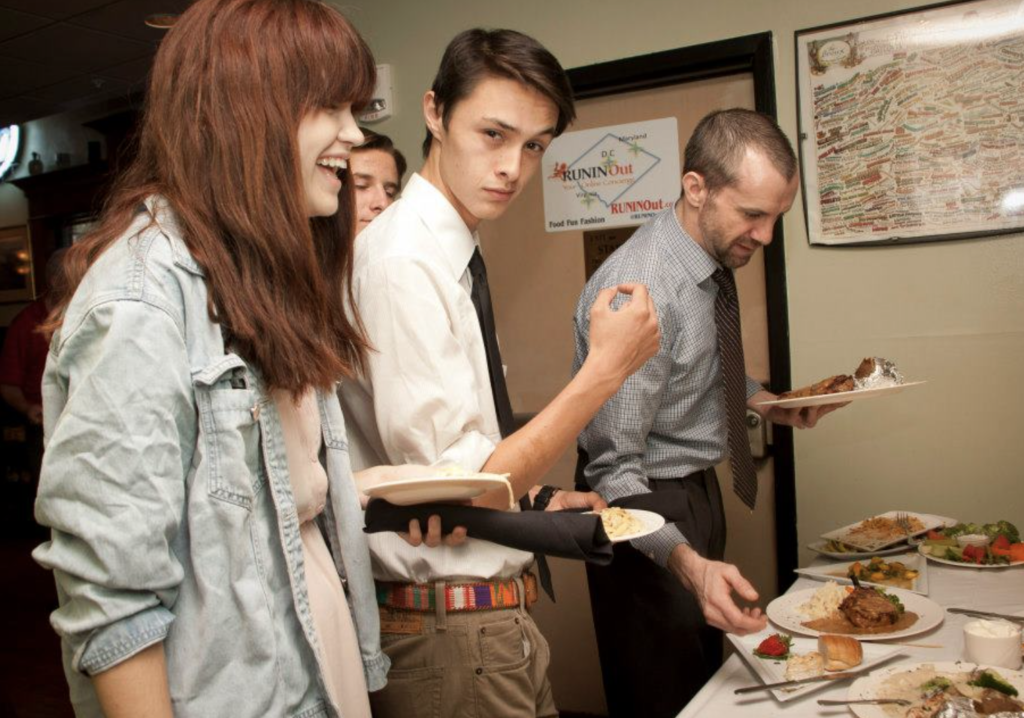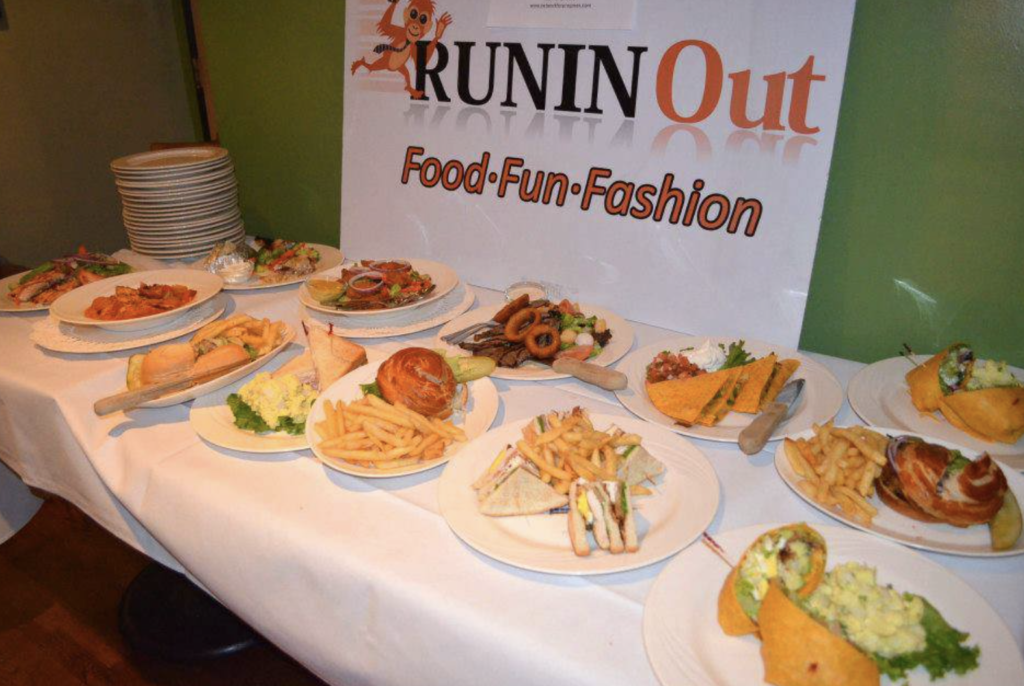 Tom and Paschal were delighted with the large turnout, and they were inclined to dole out free food and specials for featured events.
After the summer doldrums, things began to pick up in the fall. The Oregon Ducks were ranked in the Top 10 in the AP Poll and District Karaoke debuted with weekly sing-a-longs every Monday night. That plus showing each NFL game every Sunday resulted in a lot of action at the Channel